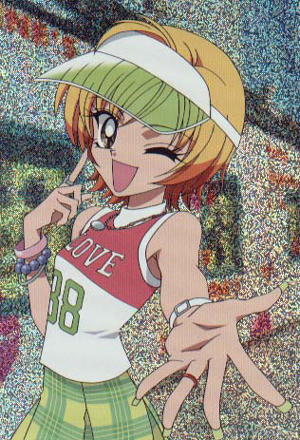 Clicca sulla foto per ingrandirla
| | |
| --- | --- |
| Nick | Miyu94 |
| Nome | Francesca |
| Sesso | F |
| Livello | Utente normale |
| Località | Salerno |
| Età | 27 |
| SitoWeb | N.D. |
| Email | N.D. |
| Iscritto dal | 24/11/2006 16:35:41 |


Ciaooooooo!!!!!
Sono nuova!E sono di Salerno!

Queste sono le canzoni + "in" del momento x me!


BOP TO THE TOP!(high school musical)
Sharpay:
I believe in dreamin'
Shootin' for the stars

Ryan:
Baby to be number one
You've got to raise the bar

Sharpay:
Kickin' and a scratchin'
Grindin' out my best

Ryan:
Anything it takes
To climb the ladder of success

Both:
Work our tails off every day
Gotta bump the competition
Blow them all away

Sharpay:
Yeah we're gonna

Both:
Bop, bop, bop
Bop to the top

Ryan:
Slip and slide and ride that rhythm

Both:
Jump and hop hop 'til we drop

Sharpay:
And start again

Zip zap zop
Pop like a mop

Ryan:
Scoot around the corner

Both:
Move it to the groove
'Til the music stops
Do the bop bop, bop to the top
Don't ever stop
Bop to the top

Gimmie, gimmie
Shimmy shimmy
Shake some booty and turn around
Flash a smile in their direction

Sharpay:
Show some muscle

Ryan:
Do the hustle

Both:
Yeah we're gonna bop, bop, bop
Bop to the top

Ryan:
Wipe away your inhibitions

Both:
Stump, stump, stump do the rump

Sharpay:
And strut your stuff

Both:
Bop, bop, bop
Straight to the top
Going for the glory
We'll keep stepping up
And we just won't stop
'Til we reach the top
Bop to the top


I Can't Take My Eyes Off Of You(HIGH SCHOOL MUSICAL)
Troy:
Ya never know what you're gonna feel, oh
Ya never see it comin' suddenly it's real

Gabriella:
Oh, never even crossed my mind, no
That I would ever end up here tonight

Both:
All things change
When you don't expect them to
No one knows
What the future's gonna do
I never even noticed
That you've been there all along

Chorus
Troy & Gabriella:
I can't take my eyes off of you
I know you feel the same way too, yeah
I can't take my eyes off of you
All it took . . . Was one look
For a dream come true

Ryan:
Yeah, we got a good thing goin' on

Sharpay:
Oh, right here is right where we belong

Both:
You never really know what you might find
Now all I see is you and I
You're everything I never knew
That I've been looking for

Chorus
Ryan & Sharpay

All:
Can't take my eyes off of you
Oh, oh, oh yeah
So let the music play
Can't take my eyes off of you
Yeah, the feeling's getting' stronger
And I never ever felt this way

Alright, I see everything
In your eyes. . . Oh yeah
Alright, something's happening
Cause everyone's around but
You're the only one I see

Chorus

I can't take my eyes off of you
Feelings like I never knew
I can't take my eyes off of you
From the start. . . Got my heart
Yeah, you do
Can't take my eyes off you

Amigas cheetas(cheetah girls)

Chanel:
No matter where we come from we can be ourselves and still be one!

All Cheetahs:
(Chorus)
Amigas Cheetahs
Friends for life
The rhythm and each other
That's what keeps us tight
Amigas Cheetahs
Livin' the dream
Nothin' is ever gonna come between amigas

Chanel:
What could be any better than
Knowin' someone will be there when
You gotta pour heart out
Tell your secrets to

Aquanette:
Someone who lets you be yourself
There when you need help
They've got your back win or lose

All Cheetahs:
(Chorus)

Dorinda:
Kickin' it with 'em just for fun
Or when you need the 411
Someone who gives a shout out
When you lose your faith

Galleria:
Just when you think nobody can
Ever understand
They're right here to show you the way

Galleria and Chanel:
Show you the way

All Cheetahs:
Aah, aah, aah, aah, aah, aah, ooooooooooohhhh

Chanel:
Yeahhh friends for life

All Cheetahs and Marisol:
(Chorus)

Marisol:
Ya que stamos juntas
Estamos en un mundo
Donde somos uno por la musica

Chanel:
If we just believe it
You know we can be it
Nothin' can stand in our way
Stand in our way

All Cheetahs and Marisol:
(Chorus 4x then fades)



Bhè poi c'è....Bhò!Ce ne sarebbero moooolte altre!Fin troppo!Non posso dirle tutte!


Per caso sapete come si mettono le foto?Non quelle del profilo quelle aggiunte che si possono mettere anke nei commenti!?!?!

Me lo potreste dire x favore?

Aggiornerò la mia pagina del profilo!

Grazie e un saluto a tutti!!!!




CIAOOOOOOOOOOOOOOOOOOOOOOO!!!!!!!!!